Grimm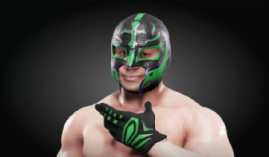 Show:
Deactivated
None / None
6-ft-4 / 220 lbs (None)
Miami, Florida
Debut: 2020-08-09
Entrance:
Cuba Libre
(48 sec)
Match Results (Last 35 Days)
No matches in last 35 days.
Fun Facts
He was abducted by aliens 3 times.
He has webbed toes and has a 10% faster swim speed than the average human.
Favourite food is Katsudon and his blood type is O-Positive.
Special Moves
Signature 1:
Signature 2:
Finisher 1:
Finisher 2:
Match Stats by Type
Singles: 7-4-0
Win by: Pinfall: 7
Losses by: Pinfall: 4

Triple Threat (1-fall): 1-3-4
Win by: Pinfall: 1
Losses by: Pinfall: 2, Submission: 1
No Falls: 1

Four-Way (Elim): 0-1
Elims by: Pinfall: 1
Eliminated by: Pinfall: 1

Five-way (Elim): 1-0
Elims by: Pinfall: 1

Six-Way (Elim): 0-1

Eight-Way (Elim): 0-2
Elims by: Pinfall: 1
Eliminated by: Submission: 2

Survivor Series (Singles): 0-1
Elims by: Double Count-Out: 1
Eliminated by: Double Count-Out: 1

Battle Royal: 0-5 (2 Eliminations)

Royal Rumble (30): 0-1 (0 Eliminations)