Sephiroht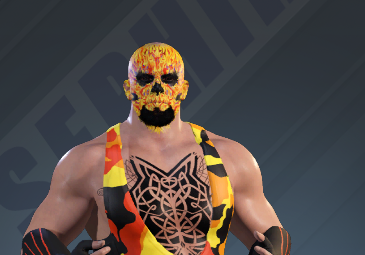 Show:
Titans
Powerhouse / Poison Mist
6-ft-3 / 335 lbs (Super Heavyweight)
The Pits of Hell
Debut: 2020-01-06
Entrance:
Black Vulture
(46 sec)
Match Results (Last 35 Days)
Fun Facts
Has a pet red panda named Wiggles
Trained with Bruce Lee in the art of origami.
Has a magic trick named 'How and Why?' You don't think you want to know any more details.
Special Moves
Signature 1: Yokosuka Cutter 2
Signature 2: Elevated Triangle Choke
Finisher 1: Rock Bottom 1
Finisher 2: Reverse Chokeslam 2

Match Stats by Type
Singles: 30-22-1
Win by: Pinfall: 26, Submission: 4
Losses by: Pinfall: 19, Submission: 2, Ladder Clutch: 1
No Falls: 1

Triple Threat (1-fall): 8-5-6
Win by: Pinfall: 8
Losses by: Pinfall: 4, Submission: 1
No Falls: 1

Triple Threat (Best 2 of 3 Falls): 1-0-1
Win by: Pinfall: 1
No Falls: 1

Triple Threat (Elim): 1-1
Elims by: Pinfall: 2
Eliminated by: Pinfall: 1

Four-Way (1-fall): 0-1-4
Losses by: Submission: 1
No Falls: 1

Four-Way (Best 2 of 3 Falls): 0-0-1
No Falls: 1

Four-Way (Elim): 2-12
Elims by: Pinfall: 7, Table: 2, First Blood: 1
Eliminated by: Pinfall: 9, First Blood: 1, Submission: 2

Five-Way (1-fall): 1-0-4
Win by: Pinfall: 1
No Falls: 1

Five-way (Elim): 3-3
Elims by: Pinfall: 9
Eliminated by: Pinfall: 2, Submission: 1

Six-Way (1-fall): 0-0-1
No Falls: 1

Six-Way (Elim): 2-6
Elims by: Pinfall: 4
Eliminated by: Pinfall: 6

Eight-Way (Elim): 1-4
Elims by: Pinfall: 3, Submission: 1
Eliminated by: Pinfall: 1, Submission: 2, First Blood: 1

Survivor Series (Singles): 0-1
Elims by: Count-Out: 1
Eliminated by: Count-Out: 1

Battle Royal: 7-30 (43 Eliminations)

Royal Rumble (10): 0-3 (1 Eliminations)

Royal Rumble (30): 1-5 (8 Eliminations)