The Undertaker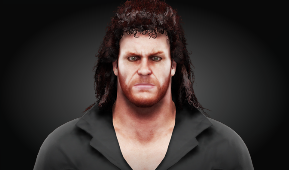 Show:
Deactivated
None / None
6-ft-10 / 299 lbs (None)
Death Valley
Debut: 2019-12-22
Entrance: None selected (0 sec)
Match Results (Last 35 Days)
No matches in last 35 days.
Title History
No titles earned.
Fun Facts
He once beat himself in a match.
Was originally supposed to wrestle in the WWE as The Eggman.
Has a deathly fear of cucumbers.
Special Moves
Signature 1:
Signature 2:
Finisher 1:
Finisher 2:
Match Stats by Type
Singles: 2-5-0
Win by: Pinfall: 2
Losses by: Pinfall: 4, Submission: 1

Triple Threat (1-fall): 0-2-1
Losses by: Pinfall: 2
No Falls: 2

Four-Way (Elim): 2-4
Elims by: Submission: 2, Pinfall: 3
Eliminated by: Pinfall: 4

Eight-Way (Elim): 0-1
Elims by: Pinfall: 1
Eliminated by: Pinfall: 1

Battle Royal: 1-6 (8 Eliminations)

Royal Rumble (30): 0-1 (1 Eliminations)