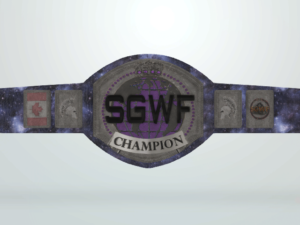 After last's night successful title defense, AJ Omega, along with several other competitors were given random steroid tests. Unfortunately, AJ Omega's test resulted in a positive. A follow-up test was conducted and that, too, returned positive for steroid use. Under Galactic Law Section 5.a.1, which forbids the use of any performance enhancement materials, the SGWF has released AJ Omega, until such time he can pass any enhancement tests.
As a result, the SGWF Championship is hereby vacated on Galactic Stardate 202005.11.
The SGWF Championship will be awarded at the King of the Ring event on Galactic Stardate 202006.15 (June 15, 2020 for folks living in the 21st century). The match will feature the number one and number two contenders as well as any Men's Boss Battle winners from here to the King of the Ring.