Today is Monday, August 5th, 2019. Happy Civic Day to everyone in Ontario. I'm pretty sure all the other provinces have this day off as well but it may go by different names. In any case, enjoy the day as best you can!
This will be a bit of a different report today as there was no real big news for Whitby.
Weather
It is looking like it's going to be another nice warm day, not overly hot either. It's currently 22°C and we're expecting to get to a high of 27°C, feeling like 31°C with the humidex. Chance of precipitation is between 10% – 20%, we'll have some cloudy periods but overall it's going to be great!
Local News
Whitby Couple Complete Survivor Diet Challenge. Being avid fans of the show, the couple wondered how much weight would they lose if they were eating the same food as the contestants.
The basic principle was they would be allowed a small bowl of rice and one slice of pineapple for each meal. This would be allowed throughout the entire run of the challenge.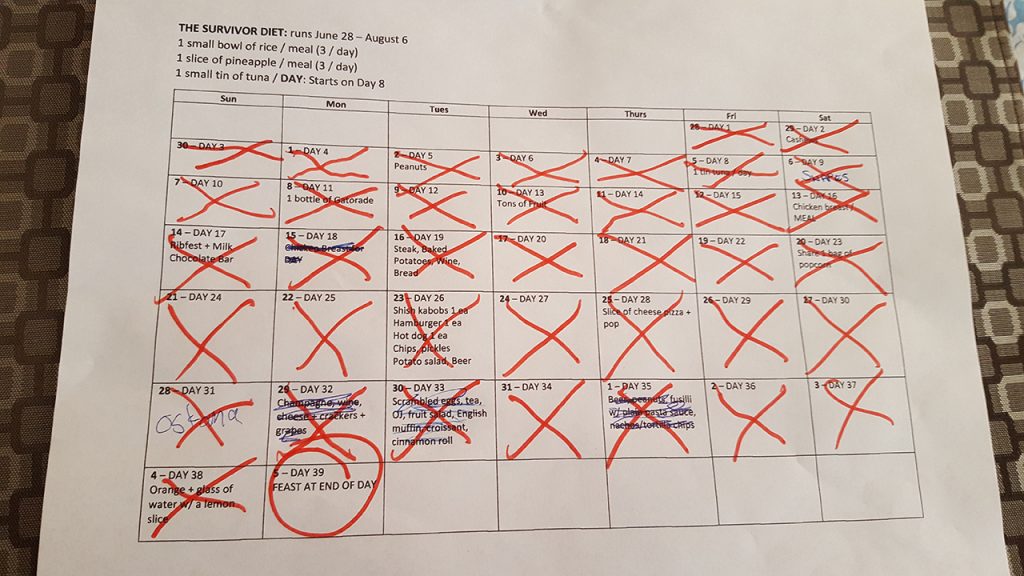 Next, the couple documented what food rewards the Survivors won and how that could be translated to the everyday foods that they ate here at home. On Day 7, they won Fishing Gear, so as of Day 8 the couple agreed to have one small tin of tuna (85g) per day.
Other food rewards included "Tons of Fruit" on Day 13 (the Survivors competed to win a huge basket of fruit), "Shish Kabob/Burgers/Dogs" on Day 26 (Jenna and Colleen had that), and Day 28 was "Slice of Cheese Pizza Day" (Gervase won that). In hindsight, they were on "easy mode" here, since not all the Survivors got to partake in the food rewards.
Additionally, the couple had to make compromises in scheduling due to family & friends events. So when it came to a day they weren't supposed to have any rewards, they would scratch out the rewards from a future date. This happened for the rewards on Day 18, 32, 33, and 35.
Overall the husband lost exactly 10 pounds and the wife lost 7.6.
When asked if they would do it again they responded "Not anytime soon. We're having dinner at The Keg tonight to celebrate. If we were to do it again, we'd make it harder. Like pick a Survivor and only eat what that person eats until they get voted off, then pick someone else. That way we don't partake in all the rewards. It was an interesting experience though."