Demon King Elijah Jones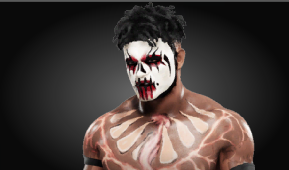 Show:
Deactivated
None / None
6-ft-1 / 265 lbs (None)
Kingston, Jamaica
Debut: 2020-07-05
Entrance: None selected (194 sec)
Match Results (Last 35 Days)
No matches in last 35 days.
Title History
No titles earned.
Fun Facts
Was once a manager of a prominent hotel.
Secretly worked at night as a bouncer in the underground wrestling scene in Kingston.
Is sometimes known to have inhuman strength: he body-slammed three wrestlers at the same time!
Special Moves
Signature 1:
Signature 2:
Finisher 1:
Finisher 2:
Match Stats by Type
Singles: 2-0-0
Win by: Pinfall: 1, Count-Out: 1

Triple Threat (1-fall): 1-0-1
Win by: Pinfall: 1
No Falls: 1

Four-Way (Elim): 0-2
Elims by: Pinfall: 2
Eliminated by: Submission: 1, Pinfall: 1

Eight-Way (Elim): 1-0
Elims by: Submission: 1, Pinfall: 3

Battle Royal: 0-2 (0 Eliminations)