Tuxedo Mask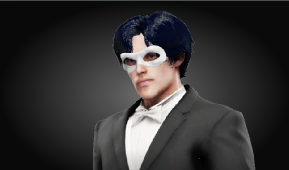 Match Results (Last 35 Days)
No matches in last 35 days.
Title History
No titles earned.
Fun Facts
Dislikes bell peppers and needles.
Throws roses as darts.
Also known as Prince Endymion of Earth.
Has been kidnapped and brainwashed many times.
His zodiac sign is Leo
His partner is none other than Sailor Moon aka Princess Serenity.
Special Moves
Signature 1:
Signature 2:
Finisher 1:
Finisher 2:
Match Stats by Type
Singles: 13-13-0
Win by: Pinfall: 11, Ladder Clutch: 1, Cage Climb-Out: 1
Losses by: Pinfall: 8, Submission: 3, Table: 1, First Blood: 1

Singles (Best 2 of 3 Falls): 0-1-0
Losses by: Submission: 1

Triple Threat (1-fall): 3-4-2
Win by: Pinfall: 3
Losses by: Pinfall: 4
No Falls: 4

Four-Way (1-fall): 0-0-1
No Falls: 4

Four-Way (Elim): 0-5
Elims by: Pinfall: 1, Submission: 2
Eliminated by: Pinfall: 5

Five-way (Elim): 1-2
Elims by: Pinfall: 5
Eliminated by: Pinfall: 2

Six-Way (Elim): 0-2
Eliminated by: Pinfall: 2

Eight-Way (1-fall): 0-0-1
No Falls: 2

Eight-Way (Elim): 0-4
Elims by: Pinfall: 2
Eliminated by: Pinfall: 3, Submission: 1

Battle Royal: 2-8 (13 Eliminations)