Dawn Parsons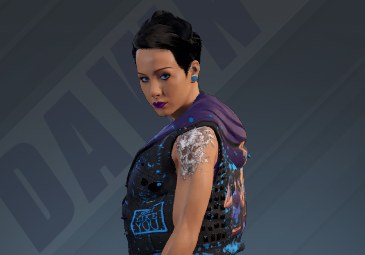 Show:
Deactivated
Striker / Power of the Punch
5-ft-6 / 129 lbs (Light Heavyweight)
Harrisburg, PA
Debut: 2021-12-14
Entrance:
Damned
(55 sec)
Match Results (Last 35 Days)
No matches in last 35 days.
Title History
No titles earned.
Fun Facts
She took up wrestling after her brother Jean Parsons retired due to too many injuries.
She loves kittens.
She plays a mean bass guitar in her free time.
Special Moves
Signature 1: Riptide
Signature 2: Pumphandle Drop 1
Finisher 1: Psycho Cutter
Finisher 2: Pumphandle Gourdbuster

Match Stats by Type
Singles: 2-0-0
Win by: Submission: 1, Iron Man Victory: 1

Singles (Best 2 of 3 Falls): 0-1-0
Losses by: Pinfall: 1

Six-Way (Best 2 of 3 Falls): 0-0-1
No Falls: 1

Eight-Way (Elim): 0-1
Elims by: Pinfall: 1
Eliminated by: Pinfall: 1

Battle Royal: 0-2 (0 Eliminations)

Royal Rumble (30): 0-1 (1 Eliminations)