Lillith Adams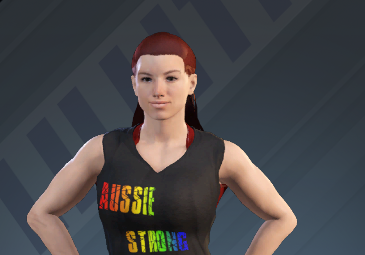 Show:
Paragons
Striker / Resiliency
6-ft-0 / 150 lbs (Heavyweight)
Brisbane, Australia
Debut: 2021-10-23
Entrance:
Sweet Mirage
(44 sec)
Match Results (Last 35 Days)
Fun Facts
She auditioned for the role of Yelena Belova in Black Widow, but Marvel passed.
She is an avid surfer, though she's never won a competition she's entered.
She has a selfie with herself and Shinsuke Nakamura as her phone wallpaper.
Special Moves
Signature 1: German Suplex 4
Signature 2: German Suplex 1
Finisher 1: Strong Style Knee Strike
Finisher 2: Jumping Knee Strike 3

Match Stats by Type
Singles: 8-15-0
Win by: Pinfall: 8
Losses by: Knock Out: 2, Pinfall: 12, Submission: 1

Triple Threat (1-fall): 3-0-1
Win by: Pinfall: 3
No Falls: 3

Triple Threat (Elim): 0-1
Eliminated by: Pinfall: 1

Four-Way (1-fall): 0-0-1
No Falls: 1

Four-Way (Elim): 1-3
Elims by: Pinfall: 3
Eliminated by: Pinfall: 3

Six-Way (Elim): 0-1
Elims by: Pinfall: 1
Eliminated by: Pinfall: 1

Eight-Way (Elim): 1-11
Elims by: Knock Out: 4
Eliminated by: Pinfall: 2, Submission: 1, Knock Out: 7

Battle Royal: 0-10 (9 Eliminations)

Royal Rumble (10): 0-4 (0 Eliminations)

Royal Rumble (20): 0-1 (2 Eliminations)

Royal Rumble (30): 0-4 (2 Eliminations)