Olive Oyl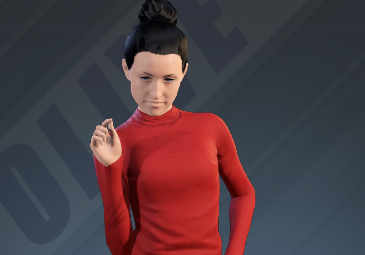 Show:
Paragons
Striker / Resiliency
6-ft-0 / 120 lbs (Cruiserweight)
No place in particular
Debut: 2021-05-29
Entrance:
Circle Dance
(62 sec)
Match Results (Last 35 Days)
Fun Facts
She eats more spinach than Popeye.
She refuses to use any olive oil in any recipes unless it is spelled oyl.
She was the center of her college basketball team and also won Olympic gold.
Special Moves
Signature 1: Rolling Savate 1
Signature 2: Superkick 8
Finisher 1: Roundhouse Kick 12
Finisher 2: Shining Wizard 2

Match Stats by Type
Singles: 18-20-0
Win by: Pinfall: 14, Submission: 3, Knock Out: 1
Losses by: Submission: 4, Pinfall: 15, Knock Out: 1

Backstage Brawl: 0-1-0
Losses by: Knock Out: 1

Singles (Best 2 of 3 Falls): 2-0-0
Win by: Pinfall: 1, Table: 1

Triple Threat (1-fall): 4-3-6
Win by: Pinfall: 3, Submission: 1
Losses by: Pinfall: 2, Submission: 1
No Falls: 1

Triple Threat (Best 2 of 3 Falls): 0-0-1
No Falls: 1

Triple Threat (Elim): 0-1
Eliminated by: Pinfall: 1

Four-Way (1-fall): 1-1-0
Win by: Pinfall: 1
Losses by: Pinfall: 1

Four-Way (Elim): 2-3
Elims by: Pinfall: 5
Eliminated by: Pinfall: 3

Five-way (Elim): 1-0
Elims by: Pinfall: 1

Six-Way (1-fall): 0-0-1
No Falls: 1

Six-Way (Elim): 0-1
Elims by: Pinfall: 1
Eliminated by: Pinfall: 1

Elimination Chamber: 0-2
Elims by: Pinfall: 1
Eliminated by: Pinfall: 2

Eight-Way (1-fall): 1-0-2
Win by: Ladder Clutch: 1
No Falls: 1

Eight-Way (Elim): 1-4
Elims by: Pinfall: 7, Knock Out: 2
Eliminated by: Pinfall: 3, Submission: 1

Battle Royal: 4-13 (22 Eliminations)

Royal Rumble (10): 0-2 (2 Eliminations)

Royal Rumble (20): 0-2 (1 Eliminations)

Royal Rumble (30): 0-4 (4 Eliminations)