Trish Stratus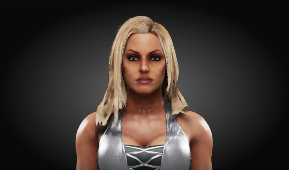 Show:
Deactivated
None / None
5-ft-5 / 125 lbs (None)
Toronto, Ontario
Debut: 2019-12-30
Entrance: None selected (0 sec)
Match Results (Last 35 Days)
No matches in last 35 days.
Fun Facts
Went to school to study Biology and Kinesiology.
Originally, she was only supposed to be a manager and not a wrestler.
She married her high school sweet-heart.
Special Moves
Signature 1:
Signature 2:
Finisher 1:
Finisher 2:
Match Stats by Type
Singles: 1-2-0
Win by: Pinfall: 1
Losses by: Pinfall: 2

Triple Threat (Elim): 1-0
Elims by: Pinfall: 1

Four-Way (Elim): 1-1
Elims by: Pinfall: 1
Eliminated by: Pinfall: 1

Battle Royal: 1-8 (4 Eliminations)

Royal Rumble (30): 0-1 (0 Eliminations)