Zynda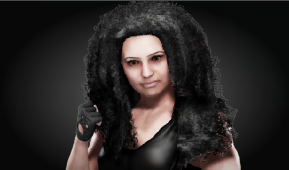 Show:
Paragons
None / None
6-ft-0 / 200 lbs (None)
Parts Unknown
Debut: 2020-02-18
Entrance:
Dance Dance
(82 sec)
Match Results (Last 35 Days)
6080. Feb-25 2023 - Royal Rumble - Royal Rumble (30): Entered 13th, Eliminated 13th by Rosie Rivera (1 eliminations)
Fun Facts
The Zynda Zlam is now a copyrighted trademark.
Tough on the outside, she's tender on the inside.
Training exercises include hunting mogwai and chipmunks.
Special Moves
Signature 1:
Signature 2:
Finisher 1:
Finisher 2:
Match Stats by Type
Singles: 19-28-0
Win by: Pinfall: 16, Submission: 3
Losses by: Pinfall: 22, Submission: 6

Triple Threat (1-fall): 8-3-2
Win by: Pinfall: 7, Submission: 1
Losses by: Pinfall: 2, Submission: 1
No Falls: 1

Four-Way (Elim): 2-7
Elims by: Pinfall: 10
Eliminated by: Pinfall: 4, Submission: 3

Six-Way (1-fall): 0-0-1
No Falls: 3

Eight-Way (1-fall): 0-0-1
No Falls: 3

Eight-Way (Elim): 0-1
Eliminated by: Pinfall: 1

Battle Royal: 5-19 (26 Eliminations)

Royal Rumble (30): 0-2 (2 Eliminations)