Velvet Dove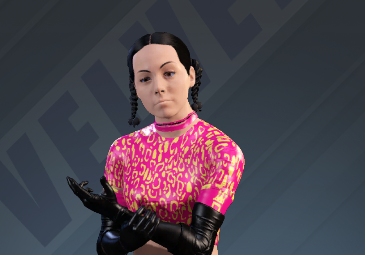 Match Results (Last 35 Days)
Fun Facts
Thinks that pants are confining and over-rated.
Was the high school champion for four years running.
Originally considered pursuing a career in MMA.
Her favourite food: deep-fried burgers on a donut bun.
She loves men who aren't afraid to wear makeup.
She prefers to walk tall and carry an oversized mallet.
Special Moves
Signature 1: Split-Legged Moonsault 2
Signature 2: Headscissor DDT
Finisher 1: Rear View
Finisher 2: Feel the Glow

Match Stats by Type
Singles: 43-41-0
Win by: Submission: 23, Pinfall: 17, Knock Out: 2, Iron Man Victory: 1
Losses by: Pinfall: 28, Submission: 8, Count-Out: 1, Knock Out: 4

Backstage Brawl: 0-2-0
Losses by: Knock Out: 2

Singles (Best 2 of 3 Falls): 3-2-1
Win by: Submission: 2, Table: 1
Losses by: Pinfall: 2
No Falls: 2

Triple Threat (1-fall): 6-10-8
Win by: Pinfall: 3, Submission: 3
Losses by: Pinfall: 6, Submission: 4
No Falls: 4

Triple Threat (Best 2 of 3 Falls): 2-1-1
Win by: Submission: 2
Losses by: Submission: 1
No Falls: 1

Triple Threat (Elim): 3-1
Elims by: Submission: 4, Pinfall: 2
Eliminated by: Pinfall: 1

Four-Way (1-fall): 1-0-2
Win by: Submission: 1
No Falls: 1

Four-Way (Elim): 5-13
Elims by: Submission: 11, Pinfall: 5
Eliminated by: Pinfall: 11, Table: 1

Five-Way (1-fall): 1-0-0
Win by: Ladder Clutch: 1

Five-way (Elim): 0-2
Eliminated by: Pinfall: 1, Table: 1

Six-Way (1-fall): 0-0-2
No Falls: 1

Six-Way (Elim): 0-3
Elims by: Submission: 1, Pinfall: 1
Eliminated by: Pinfall: 3

Elimination Chamber: 0-3
Elims by: Submission: 1, Pinfall: 1
Eliminated by: Pinfall: 3

Eight-Way (1-fall): 0-0-3
No Falls: 3

Eight-Way (Elim): 3-11
Elims by: Submission: 5, Pinfall: 4, Knock Out: 4
Eliminated by: Pinfall: 5, Submission: 1, Knock Out: 5

Survivor Series (Singles): 0-1
Elims by: Pinfall: 1

Battle Royal: 8-22 (34 Eliminations)

Royal Rumble (10): 0-3 (4 Eliminations)

Royal Rumble (20): 0-3 (2 Eliminations)

Royal Rumble (30): 1-5 (8 Eliminations)