JC Martinez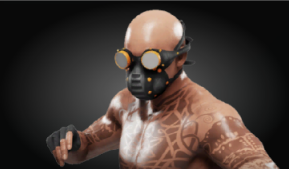 Show:
Deactivated
None / None
6-ft-0 / 250 lbs (None)
San Juan, Puerto Rico
Debut: 2020-08-09
Entrance: None selected (65 sec)
Match Results (Last 35 Days)
No matches in last 35 days.
Title History
Poutine Case: Aug-17 2020 to Sep-21 2020 (35 days) - Defended 3 times.
Fun Facts
It is unclear if he was actually an assassin. All of our sources have mysteriously disappeared.
Once went into a room with 20 people. He was the only one to leave alive.
Enjoys a good Puerto Rican taco for dessert.
Special Moves
Signature 1:
Signature 2:
Finisher 1:
Finisher 2:
Match Stats by Type
Singles: 5-2-0
Win by: Pinfall: 5
Losses by: Pinfall: 2

Four-Way (Elim): 1-0
Elims by: Pinfall: 2

Five-way (Elim): 0-2
Elims by: Pinfall: 1
Eliminated by: Pinfall: 2

Battle Royal: 0-1 (3 Eliminations)