Rustic Thor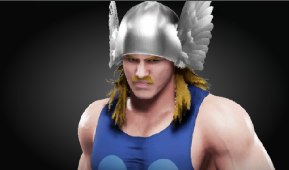 Show:
Deactivated
None / None
6-ft-6 / 320 lbs (None)
Asgard
Debut: 2020-02-03
Entrance: None selected (74 sec)
Match Results (Last 35 Days)
No matches in last 35 days.
Fun Facts
He has channeled and manifested his inner Thor.
He once battled Jormungandr, the Midgard Serpent.
Has once sported a beard.
Special Moves
Signature 1:
Signature 2:
Finisher 1:
Finisher 2:
Match Stats by Type
Singles: 13-13-0
Win by: Submission: 1, Pinfall: 11, Disqualification: 1
Losses by: Pinfall: 11, Submission: 1, Table: 1

Triple Threat (1-fall): 1-3-1
Win by: Pinfall: 1
Losses by: Pinfall: 3
No Falls: 3

Triple Threat (Elim): 0-1
Eliminated by: Pinfall: 1

Four-Way (Elim): 2-6
Elims by: Pinfall: 7
Eliminated by: Pinfall: 6

Six-Way (1-fall): 0-0-1
No Falls: 6

Six-Way (Elim): 1-0
Elims by: Pinfall: 2

Eight-Way (Elim): 0-2
Elims by: Pinfall: 3
Eliminated by: Pinfall: 2

Battle Royal: 1-9 (11 Eliminations)

Royal Rumble (30): 0-1 (0 Eliminations)