Vincent Johnson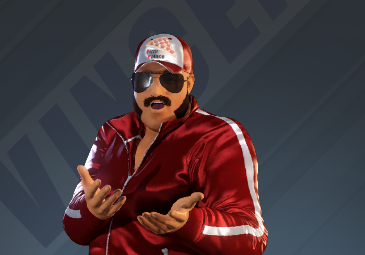 Show:
Titans
Powerhouse / Resiliency
7-ft-0 / 449 lbs (Super Heavyweight)
Philadelphia, Pennsylvania
Debut: 2020-01-06
Entrance:
Just Last Night
(45 sec)
Tag Team:
Hidden Girth
Match Results (Last 35 Days)
Fun Facts
He's sponsored by Pizza Palace: "Where Extra Sausage is Always Free".
He never delivers Hawaiian pizza but recommends Italian Sausage.
His father is rumoured to be a prolific "film star" from the 70's.
He shot his first "film" to pay for a bumper on his 1997 Honda Civic.
Special Moves
Signature 1: End of Heartache
Signature 2: Air Raid Siren
Finisher 1: Scoop Slam/Punch Combo
Finisher 2: Scoop Slam/Punch Combo

Match Stats by Type
Singles: 31-30-2
Win by: Pinfall: 27, Count-Out: 1, Submission: 1, Ring Break: 1, Disqualification: 1
Losses by: Pinfall: 23, Disqualification: 1, Knock Out: 1, Submission: 4, Cage Climb-Out: 1
No Falls: 1

Backstage Brawl: 1-0-0
Win by: Knock Out: 1

Singles (Best 2 of 3 Falls): 0-2-0
Losses by: Pinfall: 1, Submission: 1

Triple Threat (1-fall): 9-7-2
Win by: Pinfall: 9
Losses by: Pinfall: 7
No Falls: 7

Triple Threat (Elim): 0-3
Elims by: First Blood: 1, Pinfall: 1
Eliminated by: Pinfall: 1, First Blood: 1, Submission: 1

Four-Way (1-fall): 2-2-3
Win by: Pinfall: 2
Losses by: Submission: 1, Pinfall: 1
No Falls: 1

Four-Way (Elim): 5-14
Elims by: Pinfall: 12
Eliminated by: Pinfall: 9, Submission: 4, Knock Out: 1

Five-Way (1-fall): 0-1-0
Losses by: Pinfall: 1

Five-way (Elim): 0-1
Eliminated by: Pinfall: 1

Six-Way (1-fall): 0-0-1
No Falls: 1

Six-Way (Elim): 0-4
Elims by: Submission: 2
Eliminated by: Pinfall: 3, First Blood: 1

Elimination Chamber: 1-1
Elims by: Pinfall: 2
Eliminated by: Pinfall: 1

Eight-Way (1-fall): 2-0-2
Win by: Ladder Clutch: 2
No Falls: 2

Eight-Way (Elim): 1-2
Elims by: Pinfall: 3, Submission: 1
Eliminated by: Submission: 1, Pinfall: 1

Battle Royal: 3-28 (29 Eliminations)

Royal Rumble (10): 0-3 (1 Eliminations)

Royal Rumble (20): 0-1 (1 Eliminations)

Royal Rumble (30): 1-5 (7 Eliminations)