Suzie Machina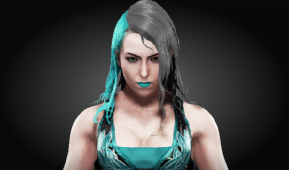 Show:
Deactivated
None / None
5-ft-6 / 142 lbs (None)
Vancouver, British Columbia
Debut: 2020-10-13
Entrance: None selected (74 sec)
Match Results (Last 35 Days)
No matches in last 35 days.
Fun Facts
Considers herself the mean one.
Her hair's blue streak is nicknamed The Mean Streak.
Was the leader of a gang at the age of 12.
Special Moves
Signature 1:
Signature 2:
Finisher 1:
Finisher 2:
Match Stats by Type
Singles: 4-3-0
Win by: Submission: 2, Pinfall: 2
Losses by: Submission: 1, Pinfall: 2

Four-Way (Elim): 0-1
Eliminated by: Pinfall: 1

Six-Way (Elim): 0-1
Elims by: Pinfall: 2
Eliminated by: Pinfall: 1

Survivor Series (Singles): 0-1
Eliminated by: Submission: 1

Battle Royal: 0-3 (4 Eliminations)