Frozen Queen Elsa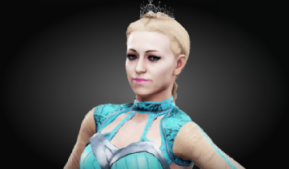 Show:
Deactivated
None / None
5-ft-5 / 132 lbs (None)
The Queen City
Debut: 2020-08-30
Entrance:
Icy Cold
(53 sec)
Match Results (Last 35 Days)
No matches in last 35 days.
Fun Facts
She does not play well with others.
Her ego is larger than most continents.
She secretly sleeps with Olaf dolls.
She is Lilith Knight's number one fan!
Special Moves
Signature 1:
Signature 2:
Finisher 1:
Finisher 2:
Match Stats by Type
Singles: 26-23-1
Win by: Pinfall: 24, Ladder Clutch: 1, Submission: 1
Losses by: Pinfall: 17, Submission: 6
No Falls: 6

Triple Threat (1-fall): 0-3-7
Losses by: Pinfall: 3
No Falls: 3

Triple Threat (Elim): 0-1
Elims by: Pinfall: 1
Eliminated by: Pinfall: 1

Four-Way (Elim): 4-4
Elims by: Over the Top Rope: 1, Pinfall: 5, Submission: 1
Eliminated by: Pinfall: 3, Submission: 1

Six-Way (Elim): 3-4
Elims by: Pinfall: 5
Eliminated by: Pinfall: 2, Submission: 2

Elimination Chamber: 0-2
Elims by: Pinfall: 3
Eliminated by: Pinfall: 2

Eight-Way (1-fall): 0-0-1
No Falls: 2

Eight-Way (Elim): 2-8
Elims by: Pinfall: 5
Eliminated by: Pinfall: 8

Survivor Series (Singles): 0-2
Eliminated by: Submission: 1

Battle Royal: 2-13 (8 Eliminations)

Royal Rumble (20): 1-0 (4 Eliminations)

Royal Rumble (30): 0-2 (1 Eliminations)