Lady Agony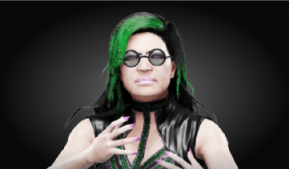 Show:
Deactivated
None / None
5-ft-7 / 145 lbs (None)
The Pits of Hell
Debut: 2020-08-18
Entrance: None selected (52 sec)
Match Results (Last 35 Days)
No matches in last 35 days.
Title History
No titles earned.
Fun Facts
She's on a regimen of 4 souls per day: breakfast, lunch, dinner, dessert.
Special Moves
Signature 1:
Signature 2:
Finisher 1:
Finisher 2:
Match Stats by Type
Singles: 2-10-0
Win by: Pinfall: 2
Losses by: Pinfall: 8, Submission: 2

Triple Threat (1-fall): 1-1-1
Win by: Submission: 1
Losses by: Pinfall: 1
No Falls: 1

Four-Way (Elim): 0-2
Elims by: Pinfall: 1
Eliminated by: Pinfall: 2

Six-Way (Elim): 0-1
Elims by: Pinfall: 2
Eliminated by: Pinfall: 1

Eight-Way (Elim): 0-1
Eliminated by: Pinfall: 1

Battle Royal: 1-3 (4 Eliminations)