Baby Ranksta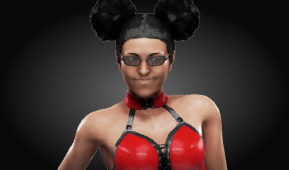 Show:
Deactivated
None / None
5-ft-5 / 132 lbs (None)
Minnesota
Debut: 2020-04-21
Entrance:
Hyperspace
(78 sec)
Match Results (Last 35 Days)
No matches in last 35 days.
Fun Facts
Has the most lethal booty in all of professional wrestling.
She can party all night long; there is no stopping her.
The Lethal Booty maneuver is not for the faint of heart.
Special Moves
Signature 1:
Signature 2:
Finisher 1:
Finisher 2:
Match Stats by Type
Singles: 31-7-1
Win by: Pinfall: 15, Disqualification: 1, Submission: 14, Table: 1
Losses by: Pinfall: 5, Ladder Clutch: 1, Disqualification: 1
No Falls: 1

Triple Threat (1-fall): 1-2-2
Win by: Pinfall: 1
Losses by: Pinfall: 2
No Falls: 2

Four-Way (1-fall): 0-0-1
No Falls: 2

Four-Way (Elim): 3-5
Elims by: Pinfall: 3
Eliminated by: Pinfall: 5

Five-way (Elim): 1-1
Elims by: Pinfall: 2
Eliminated by: Pinfall: 1

Six-Way (Elim): 1-1
Elims by: Pinfall: 1, Submission: 3
Eliminated by: Pinfall: 1

Battle Royal: 0-11 (6 Eliminations)

Royal Rumble (30): 0-1 (0 Eliminations)