Lilith Knight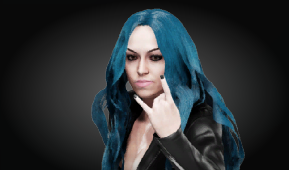 Match Results (Last 35 Days)
No matches in last 35 days.
Fun Facts
Doubles as a heavy metal vocalist in the band "Midnight Mistress".
Always looking to steal the show for her fans.
She considers her "Go to Sleep" finisher to be one of the most devastating moves in wrestling.
She makes Stoney very, very nervous.
Special Moves
Signature 1:
Signature 2:
Finisher 1:
Finisher 2:
Match Stats by Type
Singles: 23-16-0
Win by: Pinfall: 21, Knock Out: 1, Disqualification: 1
Losses by: Pinfall: 14, Submission: 2

Singles (Best 2 of 3 Falls): 0-2-0
Losses by: Pinfall: 2

Triple Threat (1-fall): 6-4-10
Win by: Pinfall: 4, Submission: 2
Losses by: Submission: 1, Pinfall: 3
No Falls: 3

Triple Threat (Elim): 1-2
Elims by: Pinfall: 1
Eliminated by: Submission: 1, Pinfall: 1

Four-Way (1-fall): 2-0-0
Win by: Table: 1, Pinfall: 1

Four-Way (Elim): 4-7
Elims by: Submission: 2, Pinfall: 10
Eliminated by: Pinfall: 5, Submission: 1, Table: 1

Five-Way (1-fall): 1-0-0
Win by: Table: 1

Six-Way (Best 2 of 3 Falls): 0-0-1
No Falls: 1

Six-Way (Elim): 1-4
Elims by: Pinfall: 6
Eliminated by: Submission: 1, Pinfall: 3

Elimination Chamber: 0-1
Eliminated by: Pinfall: 1

Eight-Way (1-fall): 0-0-1
No Falls: 1

Eight-Way (Elim): 1-4
Elims by: Pinfall: 6, Submission: 2
Eliminated by: Knock Out: 1, Pinfall: 2, Submission: 1

Survivor Series (Singles): 0-1
Eliminated by: Pinfall: 1

Battle Royal: 1-25 (21 Eliminations)

Royal Rumble (30): 0-2 (3 Eliminations)