Macho Man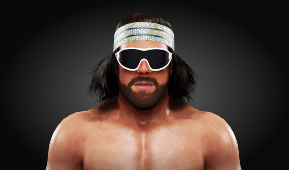 Show:
Deactivated
None / None
6-ft-2 / 237 lbs (None)
Sarasota, Florida
Debut: 2019-12-22
Entrance: None selected (76 sec)
Match Results (Last 35 Days)
No matches in last 35 days.
Title History
No titles earned.
Fun Facts
Everyone has Macho Madness. Even the SGWF!
The Flying Elbow Smash is one of the most devastating moves in wrestling.
Jake Robert's snake died after it bit the Macho Man.
Special Moves
Signature 1:
Signature 2:
Finisher 1:
Finisher 2:
Match Stats by Type
Singles: 2-4-1
Win by: Pinfall: 2
Losses by: Pinfall: 3, Submission: 1
No Falls: 1

Triple Threat (1-fall): 1-1-4
Win by: Pinfall: 1
Losses by: Pinfall: 1
No Falls: 1

Triple Threat (Elim): 1-0
Elims by: Pinfall: 1

Four-Way (1-fall): 0-0-1
No Falls: 1

Four-Way (Elim): 0-2
Elims by: Pinfall: 2
Eliminated by: Pinfall: 2

Eight-Way (1-fall): 1-0-0
Win by: Pinfall: 1

Battle Royal: 1-10 (7 Eliminations)

Royal Rumble (30): 0-1 (0 Eliminations)