Elbi Froggeh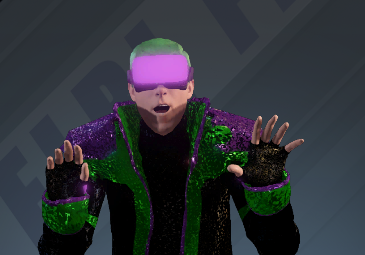 Show:
Titans
High Flyer / Low Blow
5-ft-9 / 163 lbs (Cruiserweight)
Milwaukee, Wisconsin
Debut: 2019-12-22
Entrance:
Big Big Trouble
(68 sec)
Match Results (Last 35 Days)
Fun Facts
His real hair colour is green.
Instead of counting sheep, he counts frogs leaping off lilly pads.
Is the only one of two surviving siblings after the other 1,099 siblings died.
Special Moves
Signature 1: End of Days 1
Signature 2: Axe Kick 3
Finisher 1: Famouser 2
Finisher 2: Famouser 1

Match Stats by Type
Singles: 38-47-0
Win by: Submission: 2, Pinfall: 32, Knock Out: 2, Count-Out: 2
Losses by: Pinfall: 32, Submission: 8, Disqualification: 4, Iron Man Victory: 1, Knock Out: 2

Singles (Best 2 of 3 Falls): 2-0-0
Win by: Pinfall: 1, Knock Out: 1

Triple Threat (1-fall): 10-10-4
Win by: Pinfall: 9, Ladder Clutch: 1
Losses by: Pinfall: 8, Knock Out: 1, Submission: 1
No Falls: 1

Triple Threat (Best 2 of 3 Falls): 0-0-2
No Falls: 1

Triple Threat (Elim): 1-0
Elims by: Pinfall: 2

Four-Way (1-fall): 0-0-6
No Falls: 2

Four-Way (Best 2 of 3 Falls): 0-0-1
No Falls: 2

Four-Way (Elim): 4-16
Elims by: Pinfall: 12
Eliminated by: Submission: 2, Pinfall: 12, Knock Out: 1, Table: 1

Five-Way (1-fall): 0-0-2
No Falls: 1

Five-way (Elim): 1-4
Elims by: Pinfall: 3
Eliminated by: Pinfall: 3, Table: 1

Six-Way (1-fall): 0-0-1
No Falls: 1

Six-Way (Elim): 0-4
Elims by: Pinfall: 3, First Blood: 2
Eliminated by: Pinfall: 3, First Blood: 1

Elimination Chamber: 2-5
Elims by: Pinfall: 6
Eliminated by: Pinfall: 4, Submission: 1

Eight-Way (1-fall): 0-0-4
No Falls: 1

Eight-Way (Elim): 1-16
Elims by: Pinfall: 5, First Blood: 7, Submission: 1, Knock Out: 1
Eliminated by: Pinfall: 10, First Blood: 3, Knock Out: 1, Submission: 2

Battle Royal: 5-25 (24 Eliminations)

Royal Rumble (10): 0-4 (0 Eliminations)

Royal Rumble (20): 0-1 (3 Eliminations)

Royal Rumble (30): 0-6 (6 Eliminations)