Dr. Mindbender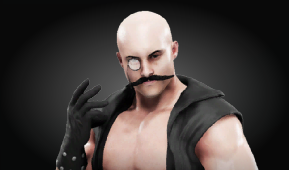 Show:
Deactivated
None / None
6-ft-1 / 220 lbs (None)
New York
Debut: 2020-05-18
Entrance: None selected (0 sec)
Match Results (Last 35 Days)
No matches in last 35 days.
Title History
No titles earned.
Fun Facts
Was formerly an auditor for the IRS.
Was formerly a dentist.
Was the mastermind behind the creation of Serpentor.
Special Moves
Signature 1:
Signature 2:
Finisher 1:
Finisher 2:
Match Stats by Type
Singles: 1-1-1
Win by: Pinfall: 1
Losses by: Pinfall: 1
No Falls: 1

Triple Threat (1-fall): 0-1-1
Losses by: Pinfall: 1
No Falls: 1

Four-Way (Elim): 1-0
Elims by: Pinfall: 2

Eight-Way (Elim): 0-1
Elims by: Pinfall: 1
Eliminated by: Submission: 1

Battle Royal: 0-3 (0 Eliminations)