Blood Rage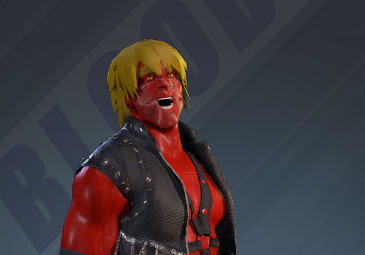 Show:
Deactivated
Powerhouse / Blackout
6-ft-7 / 325 lbs (Super Heavyweight)
The Pits of Hell
Debut: 2020-05-04
Entrance:
Hell Wildfire
(46 sec)
Match Results (Last 35 Days)
No matches in last 35 days.
Fun Facts
Owns over 300 Pokemon cards.
Is the reigning King of the Hot Dog.
Loves horror and jump-scare games.
Is the Pokemon Master on the third layer of Hell.
Special Moves
Signature 1: Diving Clothesline 4
Signature 2: Sidewalk Slam 2
Finisher 1: Chokeslam 5
Finisher 2: Tombstone Piledriver 2

Match Stats by Type
Singles: 25-26-0
Win by: Pinfall: 23, Count-Out: 1, First Blood: 1
Losses by: Pinfall: 21, Submission: 3, Count-Out: 2

Singles (Best 2 of 3 Falls): 1-0-0
Win by: Pinfall: 1

Triple Threat (1-fall): 7-7-5
Win by: Pinfall: 7
Losses by: Pinfall: 6, Submission: 1
No Falls: 1

Triple Threat (Best 2 of 3 Falls): 0-0-1
No Falls: 1

Four-Way (1-fall): 1-0-1
Win by: Ladder Clutch: 1
No Falls: 1

Four-Way (Elim): 0-8
Elims by: Pinfall: 3
Eliminated by: Pinfall: 5, Submission: 2, First Blood: 1

Five-Way (1-fall): 0-0-2
No Falls: 1

Five-way (Elim): 0-3
Elims by: Pinfall: 3
Eliminated by: Pinfall: 2, Submission: 1

Six-Way (Elim): 0-4
Eliminated by: Submission: 2, Pinfall: 2

Eight-Way (1-fall): 1-0-0
Win by: Ladder Clutch: 1

Eight-Way (Elim): 0-12
Elims by: Pinfall: 2, First Blood: 1
Eliminated by: Pinfall: 7, Submission: 4, First Blood: 1

Battle Royal: 2-17 (17 Eliminations)

Royal Rumble (10): 0-1 (0 Eliminations)

Royal Rumble (30): 0-3 (2 Eliminations)