Quinn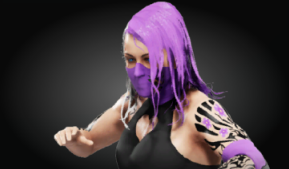 Match Results (Last 35 Days)
No matches in last 35 days.
Title History
No titles earned.
Fun Facts
Quinn can crush a watermelon with her thighs.
Rumour has it that Quinn got kicked out of a bar once for wrestling the owner while drunk.
Quinn has an impressive collection of keychains; her favourite is a replica of the Hello Kitty belt.
Special Moves
Signature 1:
Signature 2:
Finisher 1:
Finisher 2:
Match Stats by Type
Singles: 5-12-0
Win by: Pinfall: 5
Losses by: Pinfall: 11, Submission: 1

Triple Threat (1-fall): 1-2-2
Win by: Pinfall: 1
Losses by: Pinfall: 2
No Falls: 2

Four-Way (Elim): 1-3
Elims by: Pinfall: 1, Table: 1
Eliminated by: Pinfall: 2, Table: 1

Five-Way (1-fall): 0-0-1
No Falls: 1

Five-way (Elim): 0-1
Eliminated by: Pinfall: 1

Eight-Way (1-fall): 0-0-1
No Falls: 1

Eight-Way (Elim): 0-2
Eliminated by: Pinfall: 1, Submission: 1

Battle Royal: 0-5 (3 Eliminations)