Alex Samuels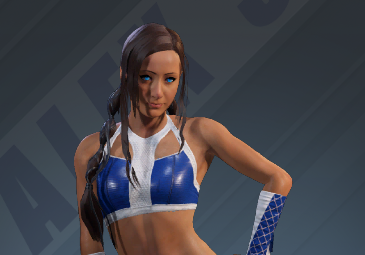 Match Results (Last 35 Days)
Fun Facts
Her and Nikki Cross were besties in High School till a tiny blonde girl called Alexa got between them in their adult years.
She was kicked out of a wrestling school punching a male trainer. Alex says that he was asking for it.
Her ring attire is to show her love for her homeland.
Special Moves
Signature 1: Twist of Fate 2
Signature 2: Stratusfaction
Finisher 1: Twisted Bliss
Finisher 2: Black Widow

Match Stats by Type
Singles: 37-24-0
Win by: Pinfall: 11, Submission: 23, Count-Out: 2, Knock Out: 1
Losses by: Pinfall: 17, Submission: 6, Knock Out: 1

Singles (Best 2 of 3 Falls): 1-2-0
Win by: Knock Out: 1
Losses by: Table: 2

Triple Threat (1-fall): 8-6-2
Win by: Pinfall: 4, Submission: 3, Ladder Clutch: 1
Losses by: Submission: 4, Pinfall: 2
No Falls: 2

Triple Threat (Best 2 of 3 Falls): 0-1-0
Losses by: Submission: 1

Triple Threat (Elim): 2-0
Elims by: Submission: 1, Pinfall: 1

Four-Way (1-fall): 0-0-1
No Falls: 1

Four-Way (Elim): 3-8
Elims by: Pinfall: 6, Submission: 5
Eliminated by: Pinfall: 7

Five-Way (1-fall): 0-0-1
No Falls: 7

Five-way (Elim): 0-1
Eliminated by: Pinfall: 1

Six-Way (Elim): 0-3
Eliminated by: Pinfall: 3

Elimination Chamber: 1-0
Elims by: Submission: 1, Pinfall: 1

Eight-Way (1-fall): 0-0-1
No Falls: 1

Eight-Way (Elim): 1-5
Elims by: Pinfall: 5, Submission: 2
Eliminated by: Pinfall: 4, Submission: 1

Survivor Series (Singles): 0-1
Eliminated by: Submission: 1

Battle Royal: 4-29 (37 Eliminations)

Royal Rumble (10): 1-1 (3 Eliminations)

Royal Rumble (30): 0-3 (1 Eliminations)