Space Unicorn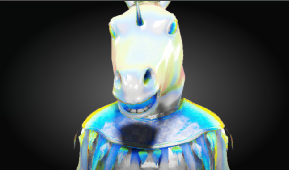 Show:
Deactivated
None / None
5-ft-5 / 132 lbs (None)
Out of this World
Debut: 2020-05-19
Entrance: None selected (61 sec)
Match Results (Last 35 Days)
No matches in last 35 days.
Fun Facts
She has an arsenal of various marshmallow laser weapons.
She truly is strong of will and pure of heart.
Once defended a galaxy from a rampaging horde of Klaxxnaxxi.
Special Moves
Signature 1:
Signature 2:
Finisher 1:
Finisher 2:
Match Stats by Type
Singles: 8-6-0
Win by: Pinfall: 8
Losses by: Submission: 1, Pinfall: 5

Triple Threat (1-fall): 3-1-0
Win by: Pinfall: 3
Losses by: Submission: 1

Four-Way (Elim): 0-6
Elims by: Pinfall: 2
Eliminated by: Pinfall: 6

Six-Way (Elim): 1-2
Elims by: Pinfall: 4
Eliminated by: Submission: 2

Eight-Way (1-fall): 1-0-0
Win by: Ladder Clutch: 1

Eight-Way (Elim): 0-2
Elims by: Pinfall: 1
Eliminated by: Pinfall: 2

Battle Royal: 1-7 (6 Eliminations)