Wonder Woman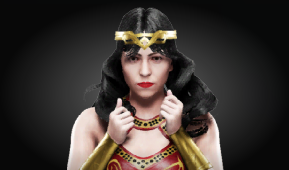 Match Results (Last 35 Days)
No matches in last 35 days.
Title History
No titles earned.
Fun Facts
Her Lasso of Truth has been used by federation investigative officers to solve difficult cases.
Her mere presence in the dressing room is enough to quell even the most heated disputes.
Her invisible plane was also translocated.
Special Moves
Signature 1:
Signature 2:
Finisher 1:
Finisher 2:
Match Stats by Type
Singles: 6-10-0
Win by: Pinfall: 5, Submission: 1
Losses by: Submission: 1, Pinfall: 8, Count-Out: 1

Four-Way (1-fall): 0-0-1
No Falls: 1

Four-Way (Elim): 0-4
Elims by: Pinfall: 2
Eliminated by: Pinfall: 4

Battle Royal: 0-5 (3 Eliminations)

Royal Rumble (30): 0-1 (1 Eliminations)


Match History (All Time)
No matches found.