Damien Cruz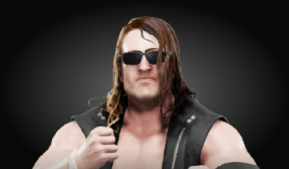 Match Results (Last 35 Days)
No matches in last 35 days.
Title History
No titles earned.
Fun Facts
Damien eats fish tacos 5 days a week.
The location of "Wild Thing" is very appropriate.
He perfected the meatball: 1/3 ground beef, 1/3 ground pork, 1/3 ground Yotorichuck.
Broke his leg in three places - he never visits those three places anymore.
Special Moves
Signature 1:
Signature 2:
Finisher 1:
Finisher 2:
Match Stats by Type
Singles: 4-4-0
Win by: Pinfall: 3, Count-Out: 1
Losses by: Pinfall: 4

Triple Threat (1-fall): 1-0-1
Win by: Pinfall: 1
No Falls: 1

Six-Way (Elim): 0-1
Eliminated by: Submission: 1

Battle Royal: 0-4 (2 Eliminations)

Royal Rumble (30): 0-1 (0 Eliminations)