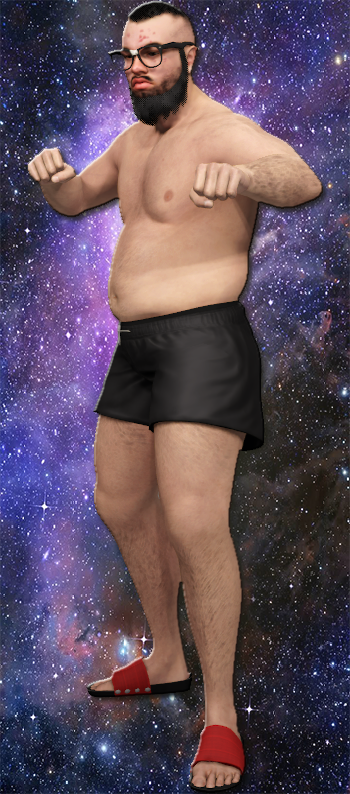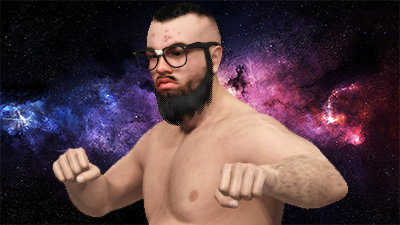 Ht:
Height:
5-ft-10
Wt:
Weight:
179 lbs (Cruiserweight)
Home:
Hometown:
Toronto, Canada
Debut:
Debut:
Entrance:
Entrance:
Moveset
FightCls:
Fight Class:
Striker
Payback1:
Payback 1:
Resiliency
Payback2:
Payback 2:
Comeback
Sig1:
Signature 1:
Alternating Forearms
Sig2:
Signature 2:
Mandible Claw 1
Fin1:
Finisher 1:
Spear 3
Fin2:
Finisher 2:
Skull Tap
Fun Facts
He once signed up for America's Best Dance Crew, and Hollywood actually called him. But his Mom caught him.
His many brothers are in different companies. They all seem to look the same though. We are currently investigating this.
Wise wittingly wishes he was a whale who whistles with winding words of wisdom.
He made a website once called thevirusthatworks.com. His computer then corrupted due to a virus.
He wishes upon a stone, for every time he's soorey.
He has a collection of wrestlers' teeth, for when they get kicked out of their mouth.
He deep fried his tears to see how much salt there would be, his butt hurt afterwards.
He's part of the notorious group, the oWo: Only Winners Only.
His ex-girlfriend broke up with him because her eyes were sore from all that rolling.
His pillow cries for him.
He's always in the phase that he says to his parents that it's not a phase.
His favourite number is 1, that's why he puts up one finger. That's also his sniffing finger.
He once hit a home run during a Blue Jays game, that no one was at.
He won a water drinking contest.
He keeps his bag of milk next to his pet moose.
Match Results (Last 35 Days)
No matches in last 35 days.
Match Stats by Type
Singles: 29-26-0
Win by: Pinfall: 27, Table: 1, Knock Out: 1
Losses by: Pinfall: 16, Submission: 5, Knock Out: 4, Count-Out: 1

Singles (Best 2 of 3 Falls): 2-3-0
Win by: Table: 2
Losses by: Pinfall: 2, Submission: 1

Triple Threat (1-fall): 5-9-6
Win by: Pinfall: 5
Losses by: Submission: 1, Pinfall: 8
No Falls: 8

Triple Threat (Best 2 of 3 Falls): 0-1-2
Losses by: Submission: 1
No Falls: 1

Triple Threat (Elim): 0-2
Elims by: Pinfall: 1
Eliminated by: Pinfall: 2

Four-Way (1-fall): 1-1-5
Win by: Submission: 1
Losses by: Pinfall: 1
No Falls: 1

Four-Way (Best 2 of 3 Falls): 0-0-1
No Falls: 1

Four-Way (Elim): 3-14
Elims by: Pinfall: 9, Submission: 4, Table: 1
Eliminated by: Submission: 1, Pinfall: 12, Table: 1

Five-Way (1-fall): 1-0-0
Win by: Table: 1

Five-way (Elim): 2-3
Elims by: Pinfall: 3, Table: 3
Eliminated by: Pinfall: 3

Six-Way (Best 2 of 3 Falls): 0-1-0
Losses by: Pinfall: 1

Six-Way (Elim): 1-3
Elims by: Pinfall: 6
Eliminated by: Submission: 2, Pinfall: 1

Elimination Chamber: 0-3
Elims by: Pinfall: 1
Eliminated by: Pinfall: 2, Submission: 1

Eight-Way (1-fall): 0-0-3
No Falls: 1

Battle Royal: 2-23 (28 Eliminations)

Survivor Series (Singles): 0-1
Eliminated by: Count-Out: 1

Eight-Way (Elim): 0-7
Elims by: First Blood: 2, Pinfall: 2
Eliminated by: Pinfall: 4, Knock Out: 2, First Blood: 1

Royal Rumble (10): 1-0 (3 Eliminations)

Royal Rumble (20): 0-2 (0 Eliminations)

Royal Rumble (30): 0-8 (6 Eliminations)