BatCow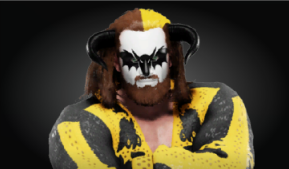 Show:
Deactivated
Powerhouse / Resiliency
6-ft-2 / 245 lbs (Heavyweight)
Your Darkest Fears
Debut: 2020-09-27
Entrance:
Tumbleweed
(47 sec)
Match Results (Last 35 Days)
No matches in last 35 days.
Fun Facts
Moos at the full moon, unnerving his neighbours.
Solves arguments with headbutts.
Part bat, part cow, part man; All Cheese!
Special Moves
Signature 1: Chokeslam Backbreaker
Signature 2: Powerbomb/Elbow Drop Combo
Finisher 1: Two-Handed Chokebomb
Finisher 2: Superman Punch/Spear Combo

Match Stats by Type
Singles: 24-19-1
Win by: Pinfall: 23, Disqualification: 1
Losses by: Pinfall: 14, Submission: 4, Iron Man Victory: 1
No Falls: 1

Backstage Brawl: 1-0-0
Win by: Knock Out: 1

Triple Threat (1-fall): 6-5-6
Win by: Pinfall: 6
Losses by: Pinfall: 5
No Falls: 5

Triple Threat (Best 2 of 3 Falls): 1-0-0
Win by: Pinfall: 1

Four-Way (1-fall): 0-1-1
Losses by: Pinfall: 1
No Falls: 1

Four-Way (Elim): 0-4
Elims by: Pinfall: 2
Eliminated by: Submission: 2, Pinfall: 2

Five-Way (1-fall): 0-0-2
No Falls: 2

Six-Way (Elim): 0-5
Elims by: Pinfall: 3, Knock Out: 1
Eliminated by: Pinfall: 2, Submission: 2, Knock Out: 1

Elimination Chamber: 1-0
Elims by: Pinfall: 2, Submission: 1

Eight-Way (Elim): 0-3
Elims by: Pinfall: 2
Eliminated by: Pinfall: 2, Submission: 1

Survivor Series (Singles): 0-1
Eliminated by: Submission: 1

Battle Royal: 2-12 (10 Eliminations)

Royal Rumble (30): 0-5 (3 Eliminations)