Charlotte Flair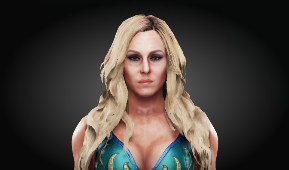 Show:
Deactivated
None / None
5-ft-10 / 147 lbs (None)
The Queen City
Debut: 2019-12-22
Entrance: None selected (70 sec)
Match Results (Last 35 Days)
No matches in last 35 days.
Title History
No titles earned.
Fun Facts
Once took the Macho Man to Show and Tell.
Sends a wink to Stone before every match.
To be the woman, you gotta beat the woman.
Special Moves
Signature 1:
Signature 2:
Finisher 1:
Finisher 2:
Match Stats by Type
Singles: 3-6-0
Win by: Pinfall: 3
Losses by: Pinfall: 4, Submission: 2

Triple Threat (1-fall): 1-1-0
Win by: Pinfall: 1
Losses by: Pinfall: 1

Triple Threat (Elim): 1-0

Four-Way (Elim): 3-4
Elims by: Pinfall: 7
Eliminated by: Submission: 2, Pinfall: 2

Eight-Way (Elim): 0-1
Eliminated by: Pinfall: 1

Battle Royal: 1-6 (6 Eliminations)

Royal Rumble (30): 0-1 (0 Eliminations)