She-Hulk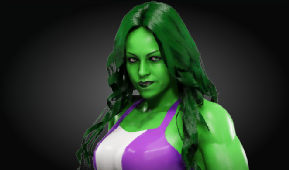 Match Results (Last 35 Days)
No matches in last 30 days.
Title History
No titles earned.
Fun Facts
She once replaced the Thing as a member of the Fantastic Four.
She is one of only a handful that know they are actually comic book characters.
She broke the Fourth Wall before Deadpool did.
OMG Selected Skills
No Moves Selected.
Match History (All Time)
No matches found.