Jason Voorhees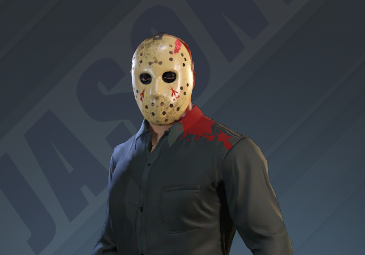 Show:
Deactivated
Powerhouse / Resiliency
6-ft-6 / 279 lbs (Super Heavyweight)
Camp Crystal Lake
Debut: 2019-12-22
Entrance:
Seven Sins Later
(114 sec)
Match Results (Last 35 Days)
No matches in last 35 days.
Fun Facts
He once wore a burlap sack on his head rather than his mask.
He was once trapped at the bottom of a lake and survived.
He wants to destroy every single one of his opponents.
Special Moves
Signature 1: Yokosuka Cutter 1
Signature 2: Elevated Triangle Choke
Finisher 1: Powerslam 1
Finisher 2: Reverse Chokeslam 2

Match Stats by Type
Singles: 4-1-0
Win by: Pinfall: 3, Iron Man Victory: 1
Losses by: Submission: 1

Triple Threat (1-fall): 1-1-3
Win by: Pinfall: 1
Losses by: Pinfall: 1
No Falls: 1

Triple Threat (Elim): 0-2
Elims by: Pinfall: 1
Eliminated by: Pinfall: 2

Four-Way (1-fall): 1-0-1
Win by: Pinfall: 1
No Falls: 1

Five-way (Elim): 0-2
Elims by: Pinfall: 1
Eliminated by: Pinfall: 2

Six-Way (Elim): 0-1
Eliminated by: Pinfall: 1

Eight-Way (Elim): 0-1
Elims by: Pinfall: 1, Submission: 2
Eliminated by: Submission: 1

Battle Royal: 0-3 (1 Eliminations)