Mr. Fix It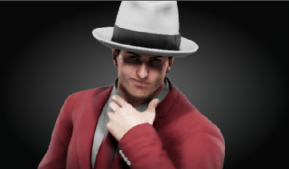 Match Results (Last 35 Days)
Title History
No titles earned.
Fun Facts
He was born in a bunk, his momma died and his daddy got drunk. They left him there, to die alone, in a place called Tabacco Road!
Loves long walks on the beach... but don't accompany him if he has a cinder block and a chain!
Don't ever make fun of his cat. His uncle made fun of his cat once... Once!
OMG Selected Skills
Corner Post Baseball Slide
Corkscrew Legdrop
Locker Powerbomb
Office Table Powerbomb

Match Stats by Type
Singles: 5-4-0
Win by: Pinfall: 4, Submission: 1
Losses by: Pinfall: 2, Disqualification: 1, Submission: 1

Triple Threat (1-fall): 1-0-1
Win by: Pinfall: 1
No Falls: 1

Four-Way (Elim): 0-1
Eliminated by: Pinfall: 1

Battle Royal: 0-3 (3 Eliminations)

Six-Way (Elim): 0-1
Elims by: Submission: 1
Eliminated by: Submission: 1

Eight-Way (Elim): 0-1
Elims by: Submission: 1
Eliminated by: Pinfall: 1

Elimination Chamber: 0-1
Elims by: Pinfall: 1
Eliminated by: Pinfall: 1

Triple Threat (Elim): 0-1
Eliminated by: Submission: 1


Stone Testing Match Stats by Type
Singles - Pinfall:4 - Submission:1 - Pinfall:2 - Disqualification:1 - Submission:1 -
Triple Threat (1-fall) - Pinfall:1 - No Fall:1 -