Roadblock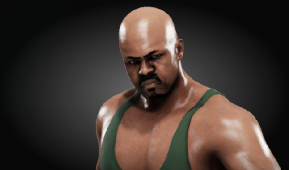 Show:
Deactivated
None / None
6-ft-10 / 270 lbs (None)
Biloxi, Mississippi
Debut: 2019-12-22
Entrance: None selected (99 sec)
Match Results (Last 35 Days)
No matches in last 35 days.
Fun Facts
His favoured weapon is a 50-caliber Browning machine gun.
Is in the process of studying to become a gourmet chef.
He once destroyed a plane of Cobra Vipers by parachuting out of it and blowing it up with a rocket launcher.
Special Moves
Signature 1:
Signature 2:
Finisher 1:
Finisher 2:
Match Stats by Type
Singles: 18-8-0
Win by: Pinfall: 6, Submission: 12
Losses by: Pinfall: 6, Submission: 1, Table: 1

Triple Threat (1-fall): 1-1-2
Win by: Pinfall: 1
Losses by: Submission: 1
No Falls: 1

Triple Threat (Elim): 1-0
Elims by: Pinfall: 2

Four-Way (1-fall): 0-0-1
No Falls: 2

Four-Way (Elim): 1-2
Elims by: Pinfall: 2
Eliminated by: Pinfall: 2

Five-way (Elim): 1-0
Elims by: Submission: 2

Elimination Chamber: 0-1
Eliminated by: Pinfall: 1

Eight-Way (Elim): 1-1
Elims by: Submission: 2, Pinfall: 3
Eliminated by: Pinfall: 1

Battle Royal: 3-13 (11 Eliminations)

Royal Rumble (10): 0-1 (0 Eliminations)