Easy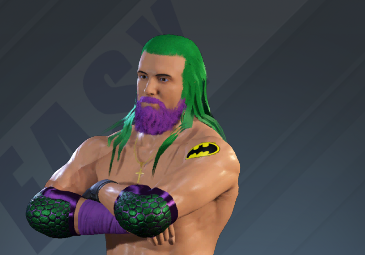 Show:
Deactivated
Striker / Resiliency
6-ft-4 / 279 lbs (Super Heavyweight)
Detroit, MI
Debut: 2021-12-11
Entrance:
In a Dark Place
(60 sec)
Match Results (Last 35 Days)
No matches in last 35 days.
Fun Facts
He destroyed his knee in a high school football game; it cost him a full ride to the University of Michigan.
As a comic nerd, he dyed his hair green to honor the Joker.
He met Jake the Snake once when he was young; He got to hold Damien and that's what got him hooked on wrestling.
Special Moves
Signature 1: Discus Big Boot
Signature 2: The Stomp 1
Finisher 1: KO 1
Finisher 2: Electric Chair/Rolling Elbow Combo

Match Stats by Type
Singles: 8-12-0
Win by: Submission: 1, Ladder Clutch: 1, Pinfall: 5, Knock Out: 1
Losses by: Pinfall: 7, Submission: 2, Cage Climb-Out: 2, Knock Out: 1

Triple Threat (1-fall): 0-3-4
Losses by: Pinfall: 3
No Falls: 3

Triple Threat (Best 2 of 3 Falls): 1-0-0
Win by: Pinfall: 1

Four-Way (1-fall): 0-0-1
No Falls: 1

Four-Way (Elim): 1-2
Elims by: Pinfall: 3
Eliminated by: Pinfall: 2

Six-Way (Elim): 1-1
Elims by: Pinfall: 2
Eliminated by: Submission: 1

Elimination Chamber: 0-1
Eliminated by: Pinfall: 1

Eight-Way (Elim): 0-1
Eliminated by: Pinfall: 1

Battle Royal: 2-8 (14 Eliminations)

Royal Rumble (10): 0-1 (0 Eliminations)

Royal Rumble (30): 0-2 (5 Eliminations)