Scurvy Stardust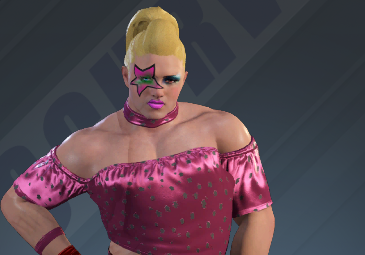 Show:
Titans
Technician / Resiliency
6-ft-1 / 239 lbs (Light Heavyweight)
Hollywood, CA (residing)
Debut: 2022-04-09
Entrance:
Let Me Get to Know You
(75 sec)
Match Results (Last 35 Days)
Fun Facts
Scurvy Stardust is a tribute to performers such as Adrian Street, Adrian Adonis and Goldust among others who have rocked the gimmick.
Was in the first graduating class of the Rancho Cucamonga Wrestling Dojo and Taquería.
Auditioned and rejected 3 times for RuPauls Drag Race.
Special Moves
Signature 1: Cave-In
Signature 2: Hell's Gate
Finisher 1: Wicked Stepsister 2
Finisher 2: Clothe

Match Stats by Type
Singles: 15-5-0
Win by: Submission: 5, Pinfall: 7, Knock Out: 3
Losses by: Pinfall: 2, Table: 1, Knock Out: 1, Submission: 1

Singles (Best 2 of 3 Falls): 1-0-0
Win by: Pinfall: 1

Triple Threat (1-fall): 1-0-2
Win by: Pinfall: 1
No Falls: 1

Four-Way (Elim): 1-2
Elims by: Pinfall: 1
Eliminated by: Pinfall: 1, Submission: 1

Five-way (Elim): 0-1
Elims by: Pinfall: 1
Eliminated by: Pinfall: 1

Six-Way (Elim): 1-0
Elims by: Submission: 1, Pinfall: 2

Elimination Chamber: 0-2
Elims by: Submission: 1, Pinfall: 2
Eliminated by: Submission: 1, Pinfall: 1

Eight-Way (Elim): 1-1
Elims by: Knock Out: 4, Pinfall: 1
Eliminated by: Knock Out: 1

Battle Royal: 0-1 (4 Eliminations)