Owndog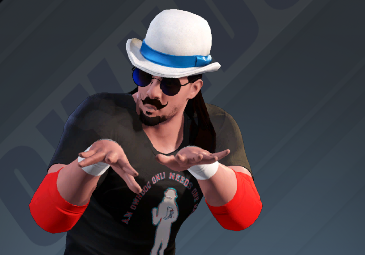 Show:
Titans
Technician / Power of the Punch
5-ft-10 / 214 lbs (Light Heavyweight)
Ohio
Debut: 2020-08-30
Entrance:
A True Hero
(183 sec)
Match Results (Last 35 Days)
Fun Facts
He never loses, he just adds another step to his plan.
He studied wrestling in Japan.
He keeps mementos from each of his victories.
Special Moves
Signature 1: Black Out 1
Signature 2: Octopus Stretch
Finisher 1: Suplex Piledriver 2
Finisher 2: Capture Suplex

Match Stats by Type
Singles: 20-24-0
Win by: Pinfall: 8, Submission: 8, Count-Out: 2, First Blood: 2
Losses by: Submission: 5, Pinfall: 19

Singles (Best 2 of 3 Falls): 1-1-0
Win by: Submission: 1
Losses by: Pinfall: 1

Triple Threat (1-fall): 11-5-0
Win by: Submission: 5, Pinfall: 6
Losses by: Pinfall: 4, Submission: 1

Triple Threat (Best 2 of 3 Falls): 0-1-0
Losses by: Pinfall: 1

Four-Way (1-fall): 0-1-0
Losses by: Table: 1

Four-Way (Elim): 4-13
Elims by: Pinfall: 6, Submission: 4, First Blood: 1
Eliminated by: Pinfall: 9, First Blood: 1, Submission: 3

Five-Way (1-fall): 1-1-0
Win by: Ladder Clutch: 1
Losses by: Pinfall: 1

Five-way (Elim): 0-4
Elims by: Table: 1
Eliminated by: Pinfall: 2, Table: 1, Submission: 1

Six-Way (1-fall): 0-0-1
No Falls: 1

Six-Way (Elim): 0-2
Eliminated by: Submission: 1, Pinfall: 1

Eight-Way (Elim): 2-4
Elims by: Pinfall: 5, Submission: 5
Eliminated by: Pinfall: 3, Submission: 1

Survivor Series (Singles): 1-0
Eliminated by: Count-Out: 1

Battle Royal: 2-23 (12 Eliminations)

Royal Rumble (30): 0-4 (2 Eliminations)