Demon Tin Man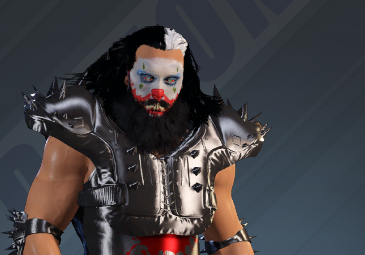 Show:
Deactivated
Powerhouse / Resiliency
7-ft-0 / 365 lbs (Super Heavyweight)
Every Man's Nightmare
Debut: 2021-10-03
Entrance:
Beloved
(139 sec)
Match Results (Last 35 Days)
No matches in last 35 days.
Fun Facts
He has always been obsessed with horror.
Michael Myers is his favourite horror movie slasher.
The Tin Man is his favourite character from Wizard of Oz.
Special Moves
Signature 1: Crucifix Powerbomb 1
Signature 2: Crucifix Powerbomb 1
Finisher 1: Running Powerbomb Toss
Finisher 2: Running Powerbomb Toss

Match Stats by Type
Singles: 7-11-0
Win by: Pinfall: 6, Knock Out: 1
Losses by: Pinfall: 5, Submission: 4, Ladder Clutch: 1, First Blood: 1

Singles (Best 2 of 3 Falls): 0-3-0
Losses by: Pinfall: 1, Table: 1, Submission: 1

Triple Threat (1-fall): 3-0-2
Win by: Pinfall: 2, Table: 1
No Falls: 1

Triple Threat (Best 2 of 3 Falls): 0-1-1
Losses by: Table: 1
No Falls: 1

Four-Way (1-fall): 1-0-1
Win by: Cage Climb-Out: 1
No Falls: 1

Four-Way (Best 2 of 3 Falls): 0-0-1
No Falls: 1

Four-Way (Elim): 1-1
Elims by: Table: 2, Pinfall: 1
Eliminated by: Pinfall: 1

Five-way (Elim): 0-1
Eliminated by: Pinfall: 1

Six-Way (Elim): 0-2
Elims by: Pinfall: 1
Eliminated by: Pinfall: 2

Eight-Way (Elim): 0-4
Elims by: Pinfall: 1
Eliminated by: Pinfall: 3, Submission: 1

Battle Royal: 0-6 (4 Eliminations)

Royal Rumble (30): 0-3 (0 Eliminations)