The Mechanic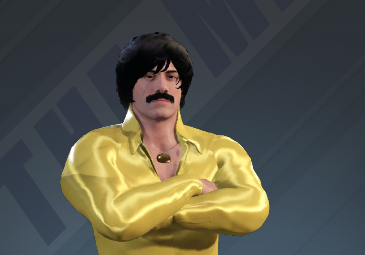 Match Results (Last 35 Days)
Fun Facts
He only drives 1971 Chevy Novas. They are the apex of automotive excellence and no other car will do.
He holds the record for the most mechanic hours billed, in a single hour, in the state of Illinois.
The Mechanic's notoriety as a pinball-shark is so great, that he's banned from most arcades in the upper Midwestern United States.
Special Moves
Signature 1: Chokeslam 5
Signature 2: Flapjack 1
Finisher 1: Two-Handed Chokebomb
Finisher 2: Slapjack

Match Stats by Type
Singles: 23-21-0
Win by: Pinfall: 23
Losses by: Pinfall: 20, Submission: 1

Singles (Best 2 of 3 Falls): 0-1-0
Losses by: Submission: 1

Triple Threat (1-fall): 6-2-5
Win by: Submission: 2, Pinfall: 3, Cage Climb-Out: 1
Losses by: Pinfall: 1, Submission: 1
No Falls: 1

Triple Threat (Best 2 of 3 Falls): 1-0-1
Win by: Table: 1
No Falls: 1

Four-Way (1-fall): 0-0-1
No Falls: 1

Four-Way (Elim): 2-5
Elims by: Pinfall: 5
Eliminated by: Submission: 1, Pinfall: 4

Five-Way (1-fall): 0-1-0
Losses by: Pinfall: 1

Five-way (Elim): 0-1
Eliminated by: Pinfall: 1

Six-Way (Elim): 0-5
Elims by: Pinfall: 2
Eliminated by: Pinfall: 5

Elimination Chamber: 1-0
Elims by: Pinfall: 1

Eight-Way (1-fall): 0-0-2
No Falls: 1

Eight-Way (Elim): 2-15
Elims by: Pinfall: 10
Eliminated by: Pinfall: 7, Submission: 3, First Blood: 3, Knock Out: 2

Battle Royal: 1-10 (7 Eliminations)

Royal Rumble (10): 0-1 (0 Eliminations)

Royal Rumble (30): 1-3 (3 Eliminations)