Mighty Mite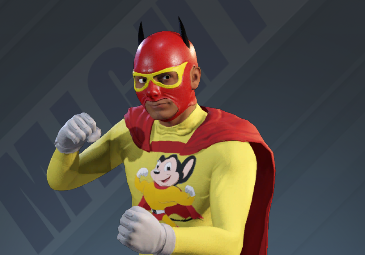 Show:
Titans
High Flyer / Resiliency
5-ft-5 / 143 lbs (Cruiserweight)
The 50's
Debut: 2021-12-26
Entrance:
Assertively Furtive
(74 sec)
Match Results (Last 35 Days)
Fun Facts
Gets really upset when you mention his famous brother.
He has been known to have super strength... opening a pickle jar.
He says he can fly... but that has yet to be seen.
Special Moves
Signature 1: Samoan Drop 4
Signature 2: Tilt-a-Whirl Armbar
Finisher 1: Swanton Bomb 2
Finisher 2: School Boy Powerbomb 1

Match Stats by Type
Singles: 11-7-0
Win by: Submission: 5, Pinfall: 6
Losses by: Pinfall: 7

Triple Threat (1-fall): 1-0-1
Win by: Pinfall: 1
No Falls: 1

Triple Threat (Elim): 1-0
Elims by: Pinfall: 2

Four-Way (1-fall): 1-2-0
Win by: Pinfall: 1
Losses by: Knock Out: 1, Pinfall: 1

Four-Way (Elim): 1-3
Elims by: Pinfall: 3
Eliminated by: Pinfall: 3

Five-way (Elim): 0-2
Elims by: Submission: 1
Eliminated by: Pinfall: 2

Elimination Chamber: 0-1
Elims by: Pinfall: 2
Eliminated by: Submission: 1

Eight-Way (1-fall): 0-0-2
No Falls: 1

Eight-Way (Elim): 0-3
Elims by: Pinfall: 1
Eliminated by: Pinfall: 2, Submission: 1

Battle Royal: 2-8 (7 Eliminations)

Royal Rumble (20): 0-1 (1 Eliminations)

Royal Rumble (30): 0-1 (1 Eliminations)