Sinister Cooper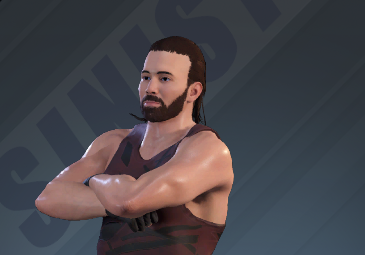 Show:
Deactivated
Technician / Power of the Punch
6-ft-3 / 255 lbs (Heavyweight)
Buffalo, NY
Debut: 2020-10-11
Entrance:
Stimulant
(75 sec)
Match Results (Last 35 Days)
No matches in last 35 days.
Fun Facts
Has mastered the guitar and is a true rock hero.
Will snipe you from 800 meters away with a flick of his wrist.
He'll plow through anyone like he plows the winter wastelands of his hometown.
Special Moves
Signature 1: Southern Lights Suplex
Signature 2: Small Package Driver 2
Finisher 1: Dr. Teeth
Finisher 2: Dragon Sleeper 5

Match Stats by Type
Singles: 21-17-0
Win by: Pinfall: 9, Submission: 11, First Blood: 1
Losses by: Pinfall: 11, Table: 1, Submission: 5

Triple Threat (1-fall): 9-2-2
Win by: Submission: 5, Pinfall: 4
Losses by: Pinfall: 1, Submission: 1
No Falls: 1

Triple Threat (Best 2 of 3 Falls): 1-0-0
Win by: Submission: 1

Four-Way (1-fall): 1-1-4
Win by: Submission: 1
Losses by: Pinfall: 1
No Falls: 1

Four-Way (Best 2 of 3 Falls): 1-0-0
Win by: Submission: 1

Four-Way (Elim): 8-7
Elims by: Submission: 10, Pinfall: 8, Table: 3
Eliminated by: Pinfall: 4, Submission: 1, Table: 2

Five-way (Elim): 1-1
Elims by: Pinfall: 1, Submission: 2
Eliminated by: Pinfall: 1

Six-Way (1-fall): 0-0-1
No Falls: 1

Six-Way (Elim): 1-6
Elims by: Submission: 7
Eliminated by: Submission: 1, Pinfall: 4, First Blood: 1

Eight-Way (1-fall): 0-0-2
No Falls: 1

Eight-Way (Elim): 0-8
Elims by: Pinfall: 1, Submission: 5, First Blood: 1
Eliminated by: Pinfall: 6, First Blood: 2

Battle Royal: 3-17 (23 Eliminations)

Royal Rumble (30): 0-3 (1 Eliminations)