Lita O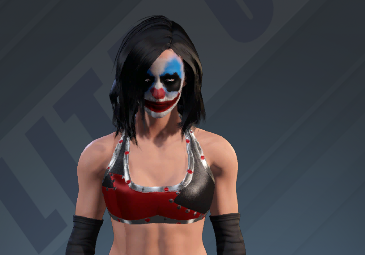 Match Results (Last 35 Days)
No matches in last 35 days.
Fun Facts
She has been wrestling for over 20 years, but her jealousy of her former best friend & tag partner made her lose her mind.
She joined a circus after she escaped from an asylum.
She has other ways to put a smile on your face.
Special Moves
Signature 1:
Signature 2:
Finisher 1:
Finisher 2:
Match Stats by Type
Singles: 6-14-0
Win by: Submission: 2, Pinfall: 4
Losses by: Pinfall: 10, Submission: 3, Knock Out: 1

Singles (Best 2 of 3 Falls): 1-0-0
Win by: Pinfall: 1

Triple Threat (1-fall): 1-3-0
Win by: Pinfall: 1
Losses by: Pinfall: 3

Triple Threat (Best 2 of 3 Falls): 0-1-1
Losses by: Pinfall: 1
No Falls: 1

Triple Threat (Elim): 0-5
Elims by: Pinfall: 1
Eliminated by: Pinfall: 3, Submission: 2

Four-Way (1-fall): 0-0-2
No Falls: 2

Four-Way (Elim): 1-1
Elims by: Pinfall: 3
Eliminated by: Pinfall: 1

Five-way (Elim): 0-2
Eliminated by: Pinfall: 2

Six-Way (Elim): 1-1
Elims by: Pinfall: 2
Eliminated by: Pinfall: 1

Eight-Way (1-fall): 0-0-2
No Falls: 1

Eight-Way (Elim): 0-2
Elims by: Pinfall: 1
Eliminated by: Pinfall: 1, Knock Out: 1

Battle Royal: 0-11 (7 Eliminations)

Royal Rumble (10): 1-2 (3 Eliminations)

Royal Rumble (30): 0-3 (1 Eliminations)