Trish DiBiase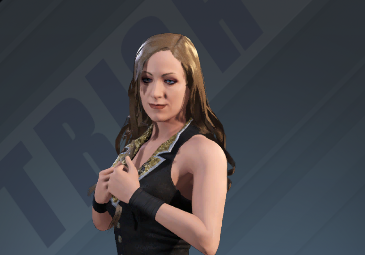 Show:
Paragons
Technician / Resiliency
5-ft-7 / 132 lbs (Light Heavyweight)
Seasonal Residences
Debut: 2021-12-19
Entrance:
Money Line
(46 sec)
Tag Team:
Fight Money
Match Results (Last 35 Days)
Fun Facts
She owns 4 different seasonal residences, all containing 3 garages filled with Porsches and a big giant pool.
She was the top swimmer in her High School Swim Team.
With her infinite wealth, she will try to pay her opponents to lose and even try to buy every Championship there is.
Special Moves
Signature 1: Diving Five Knuckle Shuffle
Signature 2: Spinebuster 5
Finisher 1: Khallas
Finisher 2: The Million Dollar Dream

Match Stats by Type
Singles: 15-10-0
Win by: Submission: 1, Pinfall: 12, Iron Man Victory: 1, Knock Out: 1
Losses by: Submission: 3, Pinfall: 7

Backstage Brawl: 3-0-0
Win by: Knock Out: 3

Singles (Best 2 of 3 Falls): 1-0-0
Win by: Pinfall: 1

Triple Threat (1-fall): 5-2-4
Win by: Pinfall: 5
Losses by: Pinfall: 2
No Falls: 2

Triple Threat (Elim): 0-3
Elims by: Pinfall: 1
Eliminated by: Submission: 1, Pinfall: 2

Four-Way (1-fall): 0-1-0
Losses by: Pinfall: 1

Four-Way (Elim): 0-4
Elims by: Pinfall: 2
Eliminated by: Pinfall: 3, Table: 1

Five-way (Elim): 1-0
Elims by: Pinfall: 1

Six-Way (1-fall): 0-0-2
No Falls: 1

Six-Way (Elim): 0-1
Eliminated by: Pinfall: 1

Elimination Chamber: 0-1
Eliminated by: Pinfall: 1

Eight-Way (1-fall): 0-0-3
No Falls: 1

Eight-Way (Elim): 1-7
Elims by: Pinfall: 9, Knock Out: 2
Eliminated by: Pinfall: 4, Knock Out: 2, Submission: 1

Battle Royal: 3-10 (14 Eliminations)

Royal Rumble (10): 0-2 (3 Eliminations)

Royal Rumble (20): 0-1 (0 Eliminations)

Royal Rumble (30): 0-3 (5 Eliminations)