Dani Weaver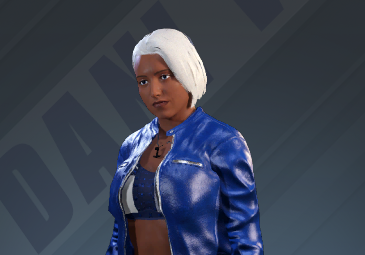 Show:
Paragons
Striker / Resiliency
5-ft-7 / 140 lbs (Light Heavyweight)
Long Island, NY
Debut: 2021-08-28
Entrance:
Burnin Out
(47 sec)
Match Results (Last 35 Days)
Fun Facts
Dani's name is actually spelled Danny because her mom thought she was going to be a boy.
Dani used to be a drummer before she got into professional wrestling and still plays the drums to this day.
She adds an extreme amount of spices to her food. No one knows why or how she stomachs it.
Special Moves
Signature 1: Pumphandle Half Nelson Driver
Signature 2: Superkick / German Suplex Combo
Finisher 1: Butterfly Lift Twisting Cutter
Finisher 2: Bridging Package Powerbomb

Match Stats by Type
Singles: 8-12-0
Win by: Pinfall: 8
Losses by: Pinfall: 10, Table: 1, Submission: 1

Triple Threat (1-fall): 2-3-6
Win by: Pinfall: 2
Losses by: Pinfall: 3
No Falls: 3

Triple Threat (Elim): 1-1
Elims by: Pinfall: 2
Eliminated by: Pinfall: 1

Four-Way (1-fall): 0-0-3
No Falls: 1

Four-Way (Elim): 0-2
Elims by: Pinfall: 1, Table: 1
Eliminated by: Pinfall: 1, Table: 1

Five-Way (1-fall): 0-0-1
No Falls: 1

Five-way (Elim): 0-1
Elims by: Pinfall: 1
Eliminated by: Pinfall: 1

Six-Way (1-fall): 0-0-1
No Falls: 1

Six-Way (Elim): 0-2
Elims by: Pinfall: 1
Eliminated by: Submission: 1, Knock Out: 1

Elimination Chamber: 0-1
Eliminated by: Pinfall: 1

Eight-Way (1-fall): 0-0-1
No Falls: 1

Eight-Way (Elim): 0-2
Eliminated by: Pinfall: 1, Knock Out: 1

Battle Royal: 1-20 (17 Eliminations)

Royal Rumble (10): 0-1 (0 Eliminations)

Royal Rumble (20): 0-2 (0 Eliminations)

Royal Rumble (30): 0-4 (4 Eliminations)