K'eh'Lo'Q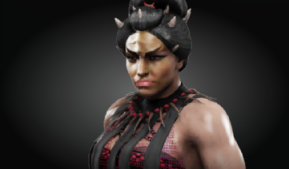 Match Results (Last 35 Days)
No matches in last 35 days.
Title History
No titles earned.
Fun Facts
She seems to mistake moving fingers for live gagh -- and loves a good feast!
In her spare time, she enjoys singing opera about her savage victories in glorious combat.
The opera of her people inspired her music.
Special Moves
Signature 1:
Signature 2:
Finisher 1:
Finisher 2:
Match Stats by Type
Singles: 3-9-0
Win by: Submission: 2, Table: 1
Losses by: Submission: 1, Pinfall: 8

Singles (Best 2 of 3 Falls): 1-1-0
Win by: Submission: 1
Losses by: Pinfall: 1

Triple Threat (1-fall): 1-0-0
Win by: Pinfall: 1

Four-Way (Elim): 0-1
Eliminated by: Pinfall: 1

Six-Way (Best 2 of 3 Falls): 1-0-0
Win by: Pinfall: 1

Six-Way (Elim): 0-1
Eliminated by: Pinfall: 1

Eight-Way (Elim): 0-2
Eliminated by: Pinfall: 2

Battle Royal: 1-7 (6 Eliminations)

Royal Rumble (20): 0-1 (0 Eliminations)

Royal Rumble (30): 0-2 (1 Eliminations)