Isabella Ramon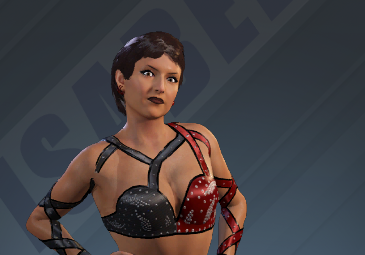 Show:
Paragons
Striker / Resiliency
5-ft-8 / 143 lbs (Light Heavyweight)
Rancho Cucamonga, CA
Debut: 2022-06-13
Entrance:
Dusty Enigma
(133 sec)
Tag Team:
Nevermore
Match Results (Last 35 Days)
Fun Facts
Will neither confirm nor deny being related to a certain WWE Hall of Famer and founding member of NWO.
Goal is to be in as many E-Feds as Melissa Ewing one day.
Won the prestigious Rancho Cucamonga Wrestling Dojo and Taqueria graduate mixed tag tournament with fellow graduate Diamond-Dave Tolos.
Special Moves
Signature 1: Rose Plant 1
Signature 2: Coquina Clutch
Finisher 1: Wicked Stepsister 2
Finisher 2: Cave-In

Match Stats by Type
Singles: 12-10-0
Win by: Pinfall: 11, Knock Out: 1
Losses by: Pinfall: 10

Singles (Best 2 of 3 Falls): 0-1-0
Losses by: Pinfall: 1

Triple Threat (1-fall): 0-2-2
Losses by: Submission: 1, Pinfall: 1
No Falls: 1

Triple Threat (Elim): 0-1
Elims by: Pinfall: 1
Eliminated by: Pinfall: 1

Four-Way (1-fall): 0-0-1
No Falls: 1

Four-Way (Elim): 0-2
Eliminated by: Pinfall: 2

Five-Way (1-fall): 0-0-1
No Falls: 2

Elimination Chamber: 1-0
Elims by: Pinfall: 2

Eight-Way (1-fall): 1-0-1
Win by: Ladder Clutch: 1
No Falls: 1

Eight-Way (Elim): 1-9
Elims by: Pinfall: 9, Knock Out: 4
Eliminated by: Knock Out: 4, Pinfall: 3, Submission: 2

Battle Royal: 1-5 (2 Eliminations)

Royal Rumble (10): 1-0 (4 Eliminations)

Royal Rumble (20): 0-1 (2 Eliminations)

Royal Rumble (30): 0-2 (2 Eliminations)