Crazy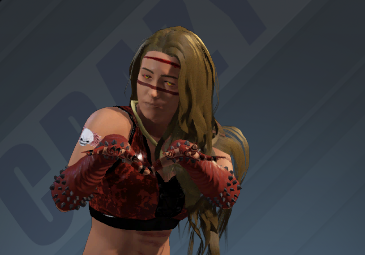 Show:
Deactivated
High Flyer / Blackout
5-ft-1 / 120 lbs (Cruiserweight)
Allentown, PA
Debut: 2020-06-21
Entrance:
Shame
(73 sec)
Match Results (Last 35 Days)
No matches in last 35 days.
Fun Facts
Rumours abound of her actually being a vampire.
Since arriving, there have been many reports of vampire-like attacks.
Reports indicate she was translocated from a dimension rife with vampires.
She was trained by one half of the Wild Samoans.
Special Moves
Signature 1: Sister Abigail 2
Signature 2: Mandible Claw 5
Finisher 1: Twisted Bliss
Finisher 2: Twisted Bliss

Match Stats by Type
Singles: 21-19-1
Win by: Submission: 15, Pinfall: 6
Losses by: Pinfall: 15, Submission: 4
No Falls: 4

Singles (Best 2 of 3 Falls): 1-2-0
Win by: Table: 1
Losses by: Table: 1, Submission: 1

Triple Threat (1-fall): 4-7-3
Win by: Submission: 2, Pinfall: 1, Ladder Clutch: 1
Losses by: Submission: 1, Pinfall: 6
No Falls: 6

Four-Way (1-fall): 1-1-1
Win by: Ladder Clutch: 1
Losses by: Pinfall: 1
No Falls: 1

Four-Way (Elim): 2-6
Elims by: Pinfall: 2, Submission: 1, Table: 3
Eliminated by: Submission: 2, Pinfall: 3, Table: 1

Five-way (Elim): 0-3
Eliminated by: Pinfall: 2, Submission: 1

Six-Way (Best 2 of 3 Falls): 0-0-1
No Falls: 1

Six-Way (Elim): 0-3
Elims by: Submission: 1
Eliminated by: Pinfall: 2

Eight-Way (Elim): 0-10
Elims by: Pinfall: 2, Knock Out: 1, Submission: 7
Eliminated by: Knock Out: 1, Pinfall: 7, Submission: 2

Battle Royal: 3-12 (11 Eliminations)

Royal Rumble (30): 0-3 (2 Eliminations)